Happy Hump Day !!! Its Wednesday and time for a WIAW post. I have been bad in taking pictures of my food so hardly any posts on WIAW. Thanks to Jenn for hosting.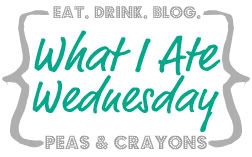 Breakfast
My absolute favorite breakfasts are whole wheat bread with almond butter or greek yogurt, berries and granola. I alternate these daily. So yesterday was a whole wheat toast with almond butter, banana for breakfast with an unpictured coffee. 
Snack #1
As I mentioned I was provided with some Larabars for review I had Lemon Bar yesterday. Not too good but just did the trick of holding me for couple of hours before lunch. 
Lunch
Its been couple of weeks I had quinoa so made a big batch of it on Monday evening for the rest of week. So I had quinoa with eggplant broadbeans curry, with a pickle on the side. 
Snack #2 
A juicy plum with few boorelu. Boorelu is a festival dish which I prepared for the Lakshmi Puja last friday. Had these after a sweaty interval training workout on the Elliptical. 
Dinner 
I prepared my favorite Gingery Cauliflower yesterday night with loads of ginger. Had it with couple of rotis on the side.  After dinner my husband prepared Masala Buttermilk (Chaas) which is a great summer drink and thirst quencher and also its very refreshing and energizing. 
 Whats your favorite breakfast?? 
Have you ever tried the Masala Buttermilk??