Happy Hump Day !!! Hows your week going on ?? Its pretty hot in Denver already hit 90's couple of days not that I am complaining.
In May I had took part in GetCOMovin Challenge hosted by LiveWellCO. To continue the thought of being active daily for a minimum of 30 minutes I challenged myself to walk/run minimum of a mile daily. Till now I walked/ran 6 miles.  Its a good way to be active and enjoy the nature too. Are you interested to join me in this challenge??? Better late than never right.
Ok now coming on to today's post its all about What I Ate On Wednesday(typically my Tuesday eats).  Linking up this post to Jess's What I Ate Wednesday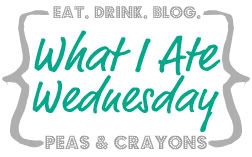 Breakfast 
I am in love with these Clean Eating Banana Muffins. They are satisfying and delicious too. I microwaved them for 30 seconds and enjoyed along with an unpictured cup of coffee. 
Snack 1
I normally have some nuts / a fruit before lunch. Today I had some unsalted mixed nuts with a peach (I recently bought about a bag of peaches for $1. Score ). 
Lunch
The picture may not look good but trust me this lunch was soo good. May be because I am starving. Its a typical south indian meal which is Ridge Gourd Curry with Cooked Broken Wheat. 
Snack 2 
Mamma Chia Squeeze Blackberry bliss (Addicted to this)  and Blueberry Chobani topped with some granola. 
Dinner 
A typical south indian meal –> Cooked Broken Wheat, Mango Dal and Carrot Stir Fry. I also had an unpictured glass of buttermilk to cool it down. 
Whats your favorite Breakfast?