Good Morning !!! Its Wednesday and time to link up to What I Ate Wednesday hosted by Jenn.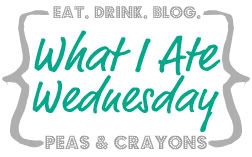 Let's check What I Ate yesterday.
Breakfast : I had two whole wheat toasts with sugar free strawberry jam.
Snacks : Unpictured string cheese, peach and some dark chocolate pieces.
Lunch : Leftover 13 bean soup
Dinner : Raddish Paratha with raddish salad and yogurt.
Today Morning: Strawberry, peach, mango smoothie.
Most of the time I remembered to take pictures, but during snacks I have totally forgotten.
Did you have Raddish Paratha any time?? Whats your favorite type of stuffing for parathas??