Happy Friday everyone. Who's ready for the weekend. I am for sure as its Super bowl weekend and Broncos are playing.  I have couple of ideas for the Super Bowl snacks (would like to switch them up). Hope it turns out good and will share on my MIMM post on Monday.
I am super excited today as my DIY # Pantry Makeover  is featured on I Heart Organizing for Reader Space Organizing Challenge. 
Instead of posting a workout just like every week, I would like to switch it up this week. Many of us do take resolutions every year to lose weight, or be active. But in a recent study it showed that most of the people stop working out by the end of January.
I have been following couple of blogs lately who are conducting workout challenges (some of them have already started but can join even if its late) in February so as  to look better by Spring.  So I am posting all the blogs and their challenges. They have more challenges too listed out which are completed but you can use them for future.
Winter Shape Up 2014 : Gina of Fitnessista along with Anne of Fannetastic Food have put together the Winter Shape 2014. Its 6-week program with weekly workouts posted by Gina on her blog and Anne posting the weekly meal plan (even contains vegan and gluten-free plans) with shopping lists. The program is absolutely free. It started last Monday but you can just join now and be sure to complete the Week 1 workouts at the end.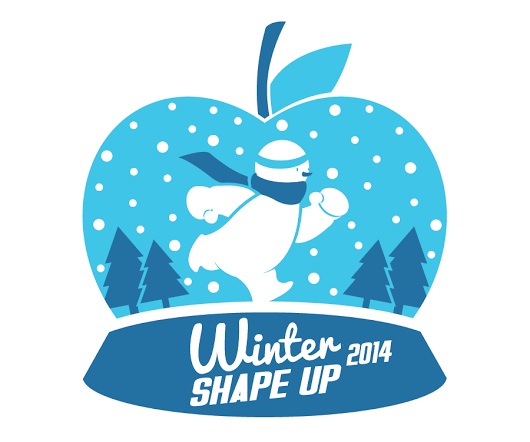 Click here for the workout details and here for the meal plan details.  There are some awesome giveaways on both the blogs. So don't forget to check-in daily.
Diet Bet Challenge : Courtney of Sweet Tooth Sweet Life, is hosting a Diet Bet Challenge. You bet$25 and join the game. The person who lose 4% of their body weight at the end of 4 weeks will get the whole amount in the pot. If multiple winners, it gets split up.
Check out here for more details about the challenge and for signing up. Apart from the money you get to win when you lose the required amount of weight, there are even awesome giveaways.
 Blogilates 90 Day Challenge: Cassey Ho of Blogilates prepared the 90 Day Challenge with weekly meal plans included too.  Check out here for more details of the challenge.
She posts monthly workout calendars so don't forget to check them out. All the workouts have videos performed by Casey herself on YouTube.  If new to blogilates, Cassey recommends to start from Beginners calendar and then do the monthly calendars.
The below blogs have monthly challenges posted on their blogs too. check them out to switch up your workout routines.
1. Sisterhood of the Shrinking Jeans
2. Inspirational Journey : Easy 30 Day workout challenge 
3. Fitness, Food and Style : 28 Days Detox Challenge 
Hope these workout challenges helps.
What are your weekend plans ?? Just lazing around, doing chores and cheer for Broncos on Super Bowl Sunday. Go Broncos !!!