Every Wednesday Jenn of Peas and Crayons  hosts this link up. On every Wednesday the bloggers link up and talk about what they ate the day before. It gives all great ideas for meals when you go to link up and look at other's food.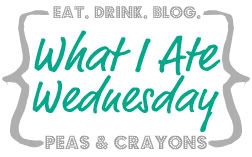 Breakfast
I had a multigrain English muffin toasted with a scrambled microwave egg and cheddar cheese. It was too good and kept me full for couple of hours.
Lunch
I skipped the regular lunch and had my favorite bowl of Greek yogurt, dash of honey and some blueberries.
Snacks
String Cheese, one unpictured dark chocolate piece.
Dinner
Masala Dosa (Lentil Crepes with Potato filling ) with Tomato Chutney.