Happy Wednesday and today its time again for What I Ate Wednesday post. How's climate at your place? Enjoying Spring? Colorado is under Winter Weather Advisory for past 2 days and we have been dumped by about 8 inches of snow and expecting couple of more today. Here a couple of pictures.
So coming to the WIAW post which is hosted by Jenn @ Peas and Crayons.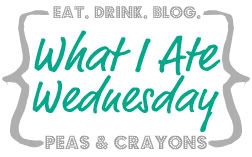 Breakfast : My regular greek yogurt +granola+flaxseed+cinnamon+honey. I cant get enough of this. Its been my breakfast for the past whole week.
Snacks: Pop chips – sweet potato (just couple of them), Lemon Lime Lemonade with green tea. It was awesome and its zero calories with all natural ingredients.  Rice Pudding.
Lunch : Roti with Spinach Tofu curry.
Dinner : 13 Bean Veggie Soup. I had cream of corn so added to it for extra creamy texture. It was good.