This is my first What I Ate Wednesday post. Jenn @ Peas & Crayons started this link up of food a couple of years ago. I have been reading a lot of blogs who participate in this. I try to take pictures of the food, but forgot to either write a post or some times forget to take most of the pictures of the food eaten on that day. So yesterday I decided to take pictures of the food eaten , so  I can blog on WIAW today.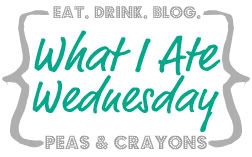 Breakfast:
It's a blueberry, peach, strawberry smoothie with flaxseed, Greek yogurt, little bit of honey. I love smoothies as they are pretty healthy and keeps me full till lunch.
Lunch:
Grilled Yellow Peppers, Zucchini over Mediterranean Salad which contains lettuce, baby spinach, feta cheese, cherry tomatoes and I used balsamic vinaigrette. It was yummy and I was full till late afternoon around 3.30.
Snack 1:
It's a maroon chocolate cake with walnuts . My manager brought a box of these little cakes from Japan. Its not too sweet and super delicious.
Snack 2:
Greek Yogurt with honey, cinnamon and Kellogg's low fat granola. This is my post workout snack and I love the addition of cinnamon in it.
Dinner:
2 Roti, Rice and Chayote Masala ( prepared by Hubby and  tasted awesome, should ask him for the recipe though
).
I know the lists sounds pretty big, but I need to snack or eat every 2-3 hours or else I feel like crap.
Have you ever participated in any linkups with food??